ADULTS

The Haras national du Pin is open all year round for groups and individuals.
Bookings must be made for groups of 20 persons or more.
We offer groups a free place for every 20 tickets purchased.
The pricing of our presentations (Guided tours, Backstage visits, Chateau, Carridage rides, Visits to the Forge and Saddlery workshop vary, depending on how many of these options you choose. Download our 2021 program (timetable and fees) for groups of adults here.
Below are suggestions of options for your group - our Tourism Team will be very happy to provide any additional information to help you plan your visit.



- A guided tour of the Haras

Our guided tours enable visitors to take a walk around the beautiful 18th century buildings of the national stud. You will visit the stables which house horses of various breeds, , the "sellerie d'honneur", our prestigious tack room, and the collection of horse-drawn carriages.
The guided tour is complemented by a self-guided tour of the museum.
Set in 18th century stables, this colourful and modern space will take you on a ride through the world of horses. The visitor will learn about breeds, reproduction, traditional trades (saddler, blacksmith, etc.) and more.

Guided tours are available all year round on reservation, and English tours can be arranged on request.
Duration: 1h30.
Tariff : 8€ per adult.



- An equestrian show in the Manege d'Aure, our indoor arena

The Equestrian Artists in Residence and Haras grooms present various equestrian shows throughout the season, which showcase the beauty and power of horses. The performances take place at 3 PM every week-end from April to September, and there are also shows during the shcool holidays in February, October and December. The Manège d'Aure is a heated indoor arena with 345 seats, fully equipped with sound and light facilities.
Tariff: 11€ per adult
Duration: 1h
- A backstage tour:

This visit takes you on a backstage tour with the Equestrian artistes to discover their work. They will explain what makes a good show horse, their training methods and their special relationship with their animals. These visits are usually in French, but can usually be offered in English if requested.
All year round on reservation.
Tariff: 8€ per adult.
Duration: 1h
- The "Jeudis du Pin":

The "Jeudis du Pin" are traditional outdoor shows, which takes place every Thursday afternoon from June to September. It starts with a presentation, to music, of different horse breeds. Artistes and Grooms unite for a majestic musical spectacle, and various equestrian disciplines (trick riding, work in liberty, show jumping, dressage) are demonstrated. At the end of the show, horse-drawn vehicules parade around the historic Cour d'Honneur.
In 2021, presentations will take place every Thursday from June 17th through to September 9 th at 3.30pm. We advise visitors to arrive by 3.00pm to be seated in the tribunes. The show takes place in the shaded outdoor arena.
Guided tours start again after the show.
Tariff: 11€ per adult.
Duration: 1hr
- The Haras du Pin château:
The château used to be the official residence of the directors of the Haras du Pin. Trophies, tapestries and paintings are on display in the various salons of the château. Visitors learn the history of the chateau, and its contents including the stunning 17th century tapestries.
Guided tours all year round on reservation.
Tariff: 8€ per adult.
Duration: 45 mins
The fabulous château of the Bourg Saint-Léonard is only 2 miles from the Haras du Pin. With its wonderful salons crammed full of treasures from the 18th and 19th century, it is a real architectural gem. A visit can be organised here as a one-off, or to complement visits at the Haras national du Pin.

Guided tours all year round on reservation.
Tariff: 4€
Duration: 1 hr
Equestrian trades
- A visit to the saddler's workshop
Presentation of the traditional trade of the saddler (how a saddle or a horse
collar are made) and his tools such as the half-moon knife.
Guided tours are available all year round on reservation.
Tariff: 8€
Duration: 30 minutes. Due to the size of the workshop, visitor numbers are restricted.
- A visit to the Forge
A guided tour of the forge with a demonstration of shoeing a horse.
Guided tours all year round, depending on the availability of the blacksmith.
Duration: 30 to 45 minutes.
- A carriage ride around the domain: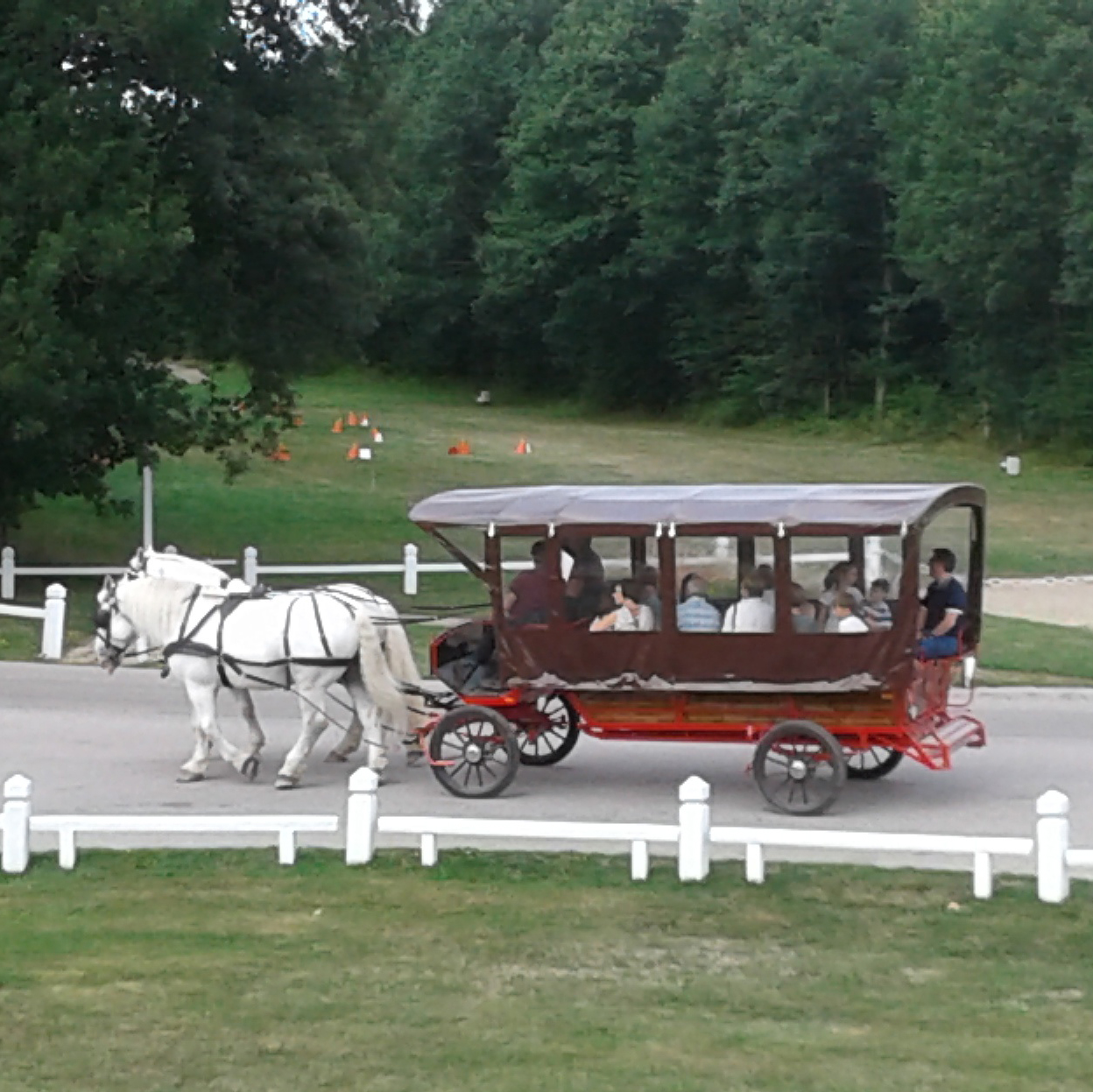 Relax and enjoy the scenery at a horse's pace! A pair of Percherons will take you on a pleasant ride through the forest on the domain.
12 seats in each carriage.
Tariff: 8€
Duration: 30 minutes.

Visits possible all year round by prior reservation.